Catherine Kingzett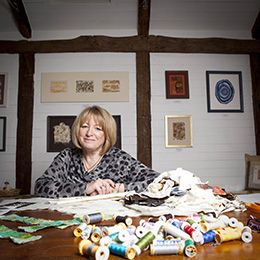 Welcome to my new website.
After closing my workshop in May 2015, One Fat Quarter in Nailsworth, Glos I am carrying on stitching and sewing.
Please take a look around to see what I'm doing now.
I am still happy to hold classes for small groups or if you would like help with a project on a one to one basis please do get in touch.
Details of day workshops and classes are on the Classes and Workshops pages.
CHRISTMAS OPEN STUDIOS
by Catherine on 17/10/2018

---
A quick update....
by Catherine on 17/10/2018

Stitch a Month is continuing and new day workshops are in place for 2019 at the yard:ARTspace, Chelt
---
TUESDAY MORNING STITCH A MONTH
by Catherine on 13/04/2018

April's Tuesday morning Stitch a Month will be on 17th April 10.00am - 1.00pm at The Yard, Cheltenha
---
MONDAY AFTERNOON STITCH A MONTH
by Catherine on 13/04/2018

April's Monday afternoon Stitch a Month will be on 16th April at The Yard, Cheltenham. 1.30 - 4.30pm
Continue Reading »
---
DAY WORKSHOPS
by Catherine on 01/04/2018

I am very happy to be back at The Yard ARTspace in Cheltenham this year with more textile related wo
Continue Reading »
---
Experimenting
by Catherine on 30/03/2018

Have been experimenting with Gum Arabic transfer printing on different fabric backgrounds. (Tha
Continue Reading »
---
Day Workshops
by Catherine on 11/09/2007

Places still available on day workshops - Saturday October 7th, Drawing with your sewing machine
Continue Reading »
---
Getting Ready
by Catherine on 08/06/2007

It's been interesting sorting out and "tidying" my workshop ready for Cheltenham Open Studios next w
Continue Reading »
---